The evening sunlight has begun to noticeably wane, which can mean only one thing: summer will only be with us for a little bit longer! If you're anything like us, you're going to be soaking up the season's last weekends on the beach—which a great book, of course! Here to share her selects for the best beachside reads is Johanna Lewis, a librarian at The Brooklyn Public Library. From the hypnotic page-turner The Girls to poems by Saeed Jones, there's a little something for everybody.
Need more book recommendations?
Try your hand at The Brooklyn Public Library's Book Match service. They'll team you up with your own personal librarian and a custom list of books to match your tastes!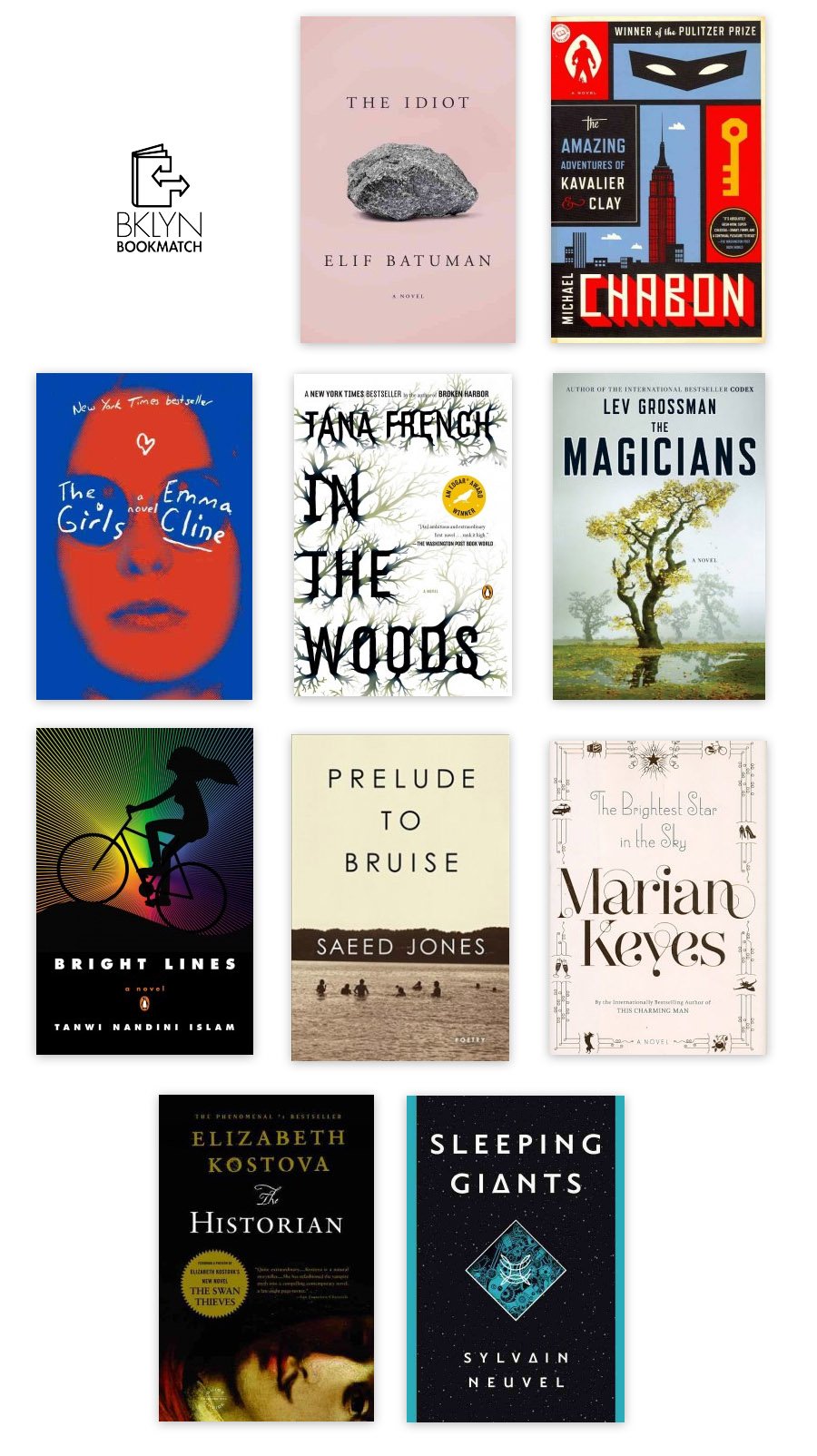 The Idiot
by Elif Batuman
If the smartest person you've ever met wrote a college coming of age novel, this would be it. It's the early 90s and Selin is a freshman at Harvard. She meets inscrutable Hungarian national, Ivan, in her Russian class. They begin a romantic, highly philosophical email correspondence back when email was on a black screen with white pixilated letters. It's an email correspondence that only two brilliant 19 year olds could have, and a bird's eye into what it's really like to go to Harvard.
The Amazing Adventures of Kavalier and Clay
by Michael Chabon
I did indeed read this on the beach. The history of comics, a fictional librarian super heroine, a love triangle, forbidden love, and family drama, all set in early to Mid-20th Century NY. With all the great Art Deco design details that go with it.
The Girls
by Emma Cline
I ripped through this fictional retelling of the Manson murders last summer. Evie is a good, sad, lonely girl, just 14, when she spots the girls in the park. They have dirty hair to their waists, and wear dirty smock dresses not much longer than that. They invite her back to their ranch, where 15 people live in squalor, scavenging food. And then, Russell. He looks at her like he'll eat her, like she's the only girl in the world. The girls say he can talk to animals, and heal with his hands. It's the summer of 1968, and Russell is the kind of man a girl would do anything for. Even kill.
In the Woods
by Tana French
I have a secret penchant for police procedurals. And Tana French writes the most literary ones I know. Rob Ryan was 12 when he and two friends went in to the woods behind his house, like they did every day. He's found a day later, sneakers soaked in blood. He remembers nothing. His two best friends are never seen again. 20 years later he and his partner and work-wife Cassie Maddox are called to a murder scene so similar, they must revisit the unsolved murders to solve this one.
The Magicians
by Lev Grossman
Quentin Coldwater is a depressive high school senior when he finds himself – magically – at Brakebills Academy in Upstate New York. Learning spells, it turns out, is repetitive and boring. Magic is just not like it was in Fillory, the setting of his favorite childhood novel series. Then he and his somewhat boozy, druggy magician friends graduate and move to NYC, only to find Fillory does exist. They set out for the magical and dangerous kingdom to save it. More Narnia than Harry Potter, I read this book and its sequels obsessively, on the beach. And the subway. And the bus. And standing waiting for traffic lights. It's that juicy.
Bright Lines
by Tanwi Nandini Islam
Some people choose a book by its cover. I choose by setting. Ella returns home to Brooklyn from Cornell to find a beautiful girl sleeping in her bed. She will find out this girl is Maya, a runaway. Soon after, she will undergo changes that allow her to live her life passing as a man. In the blackout summer of 2003, days of bicycles, and gardens, riots and Rockaway Beach, Ella and Maya yearn for home, for freedom, for each other.
The Brightest Star in the Sky
by Marian Keyes
Now, this is a beach read. Marian Keyes is one of the best-selling authors in Ireland, and to call her books chick-lit is selling them short. Seven lives – neighbors in a Dublin apartment building – intersect and unite as a spirit arrives and narrates. Here's the thing about Marian Keyes sharp, hilarious, laughter behind the tears writing – she can get away with a novel narrated by a spirit. Said spirit is there to change a life at 66 Star Street. In the meantime, s/he/it throws everyone's lives into pathos-ridden disarray. There are some chicks in here, sure, but in Keyes' hands, it's more about the lit.
The Historian
by Elizabeth Kostova
Vampire novels are not for everyone. I thought they weren't for me. The love story here is between a history professor and the lost mother of his child. In 1972, that child has grown into a bored, studious teenager in Amsterdam. She finds a pile of yellowed letters to "My dear and unfortunate successor," written by her father's mentor, who was murdered while researching Vlad the Impaler. The novel goes back in forth in time to her father's story, her mother's, and hers. Any historian who gets too close to the truth dies a blood soaked death. Could there really be a Dracula, undead all these centuries? This book literally took over my life. Turns out I'm a sucker (!) for a scary, meticulously researched, dizzyingly paced, emotionally complex vampire novel.
Prelude to Bruise
by Saeed Jones
You may not think of reading poetry on the beach. But this collection, which won a 2014 Lamda Literary Award for poetry, is full images of water, of Southland rivers, of the steam off bodies in the heat. The poems unfold as a story of sexual discovery, of self-hate and racial shame, of self-ownership. Some of them shatter me, but all are astonishing.
Sleeping Giants
by Sylvane Neuvel
I make no secret of the fact that I love sci-fi. And this is sci-fi for the already converted, and well as people who don't know they like it yet. It doesn't take place on another planet. It's more X-Files than Arthur C. Clarke. In Deadwood, South Dakota, seven-year-old Rose is on her bike in the woods. She sees something down the hill, so ditches the bike and scoots down to investigate. The ground disappears. She wakes up in an enormous room with gleaming black walls inscribed with an unknown language in glowing turquoise. And she's sitting in the palm of an enormous metal hand, 25 five long.
Johanna is a School Outreach Librarian and works out of the Brooklyn Central Library. She was raised in Rockaway Beach, Queens, and received her first kiss on a lifeguard chair. She believes beach reads get a bad rap – they don't need to be fluffy, just gripping. In her spare time she listens to records, throws themed dinner parties, and sits on her BedStuy, Brooklyn stoop like it's her job.