Earth Day is technically April 22, but as any eco-conscious person will tell you, every day should be Earth Day. Our friends at The Brooklyn Public Library are well aware of this and are sharing ten books that will inspire, inform, and help to keep our planet on your mind year-round. "As part of a team that feels strongly that everyone has a responsibility to make our planet a better place," says librarian Taina Evans, "I wanted to share a book list that would empower others to do their part." Enjoy!
Need more book recommendations?
Try your hand at The Brooklyn Public Library's Book Match service. They'll team you up with your own personal librarian and a custom list of books to match your tastes!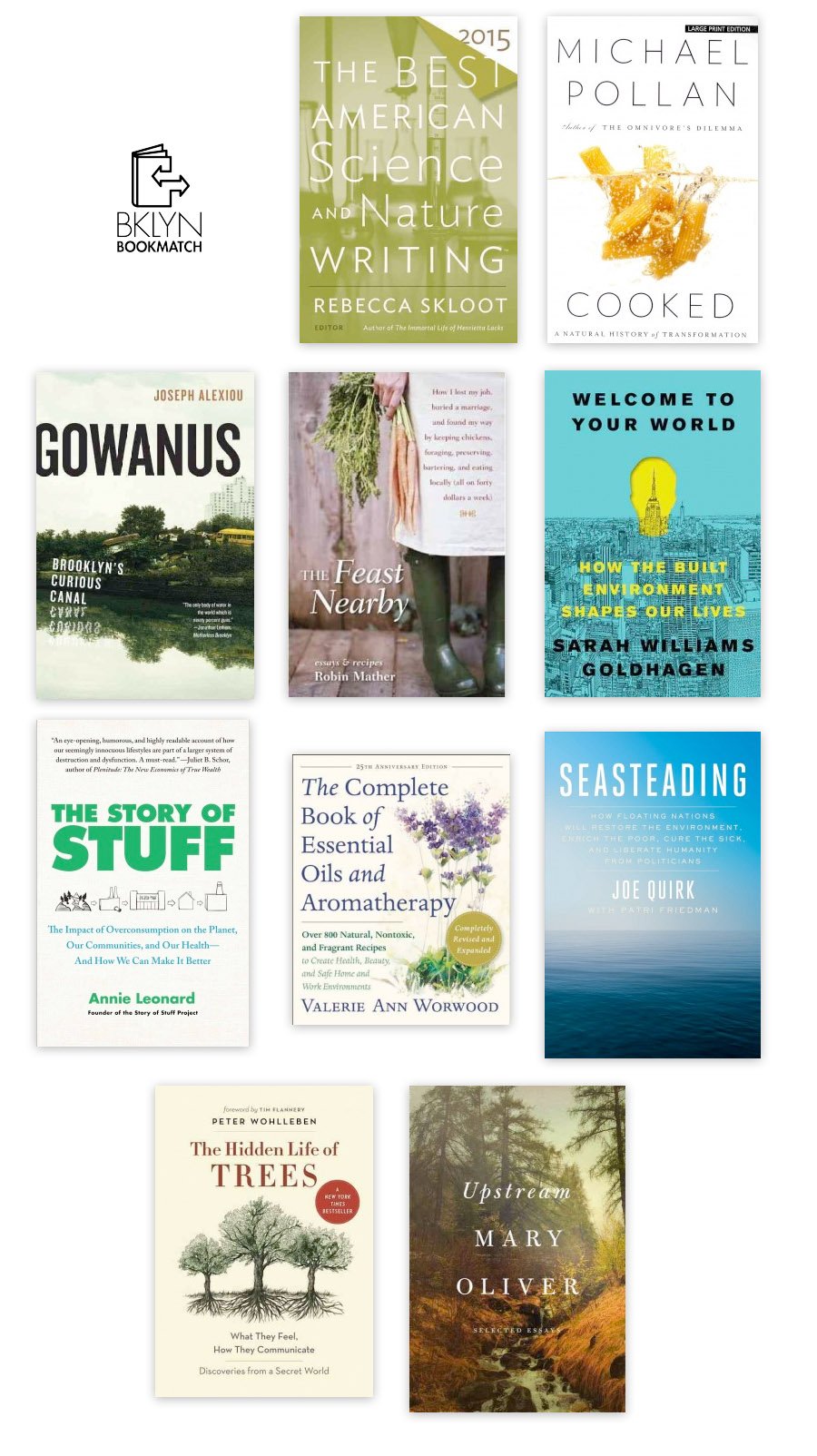 The Best American Science and Nature Writing 2015
Edited by Rebecca Skloot
Presents a collection of nature and science essays published in American periodicals in 2014.
Cooked: A Natural History of Transformation
by Michael Pollan
In Cooked, Michael Pollan discovers the enduring power of the four classical elements – fire, water, air, and earth – to transform the stuff of nature into delicious things to eat and drink. Apprenticing himself to a succession of culinary masters, Pollan learns how to grill with fire, cook with liquid, bake bread, and ferment everything from cheese to beer – and finds that reclaiming cooking as an act of enjoyment and self-reliance opens the door to a more nourishing life.
Gowanus: Brooklyn's Curious Canal
by Joseph Alexiou
Journalist Alexiou presents an extensively researched history of Brooklyn's Gowanus Canal. From the Revolutionary War to the fight for environmental justice, the Gowanus has played an outsized role in New York history.
The Feast Nearby
by Robin Mather
Curious about the "locavore" movement? This book gently instructs through humor something the author is very passionate about, buying locally.
Welcome to Your World: How the Built Environment Shapes Our Lives
by Sarah Williams Goldhagen
One of the nation's chief architecture critics, drawing on new discoveries in cognitive psychology and neuroscience, takes readers on an eye-opening journey through some of the world's best and worst landscapes, buildings and cityscapes, revealing how the environments we build profoundly shape our feelings and memories. 35,000 first printing.
The Story of Stuff
by Annie Leonard
This book highlights the excess of consumerism and promotes sustainability.
The Complete Book of Essential Oils and Aromatherapy
by Ann Valerie Worwood
Who wouldn't want a book that tells you everything you wanted to know about essential oils?
Seasteading
by Joe Quirk
Profiles some of the visionaries who are implementing basic concepts of seasteading—farming the oceans for new sources of nutrition; using the seas as a new sustainable energy source; establishing more equitable economies; and reinventing architecture to accommodate the demands of living on the ocean.
The Hidden Life of Trees: What They Feel, How They Communicate
by Peter Wohllebe
The author pays homage to trees with a unique perspective.
Upstream: Selected Essays
by Mary Oliver
Mary Oliver's makes breathtaking observations about the natural world through poems and essays.
Taina Evans, Coordinator for Older Adult Services, oversees all Library services targeting older adults. She has worked at The Brooklyn Public Library since 2007 and brings with her a vision to better connect older adults in nursing homes and hospice care to library services, as well as a passion for engaging older adults (especially homebound seniors) with technology. Ms. Evans has a Master's in Library Science from St. John's University.