In honor of International Women's Day, we've asked our friends at The Brooklyn Public Library to share books by women that inspire them. "This March, when we celebrate Women's History Month," says Youth Services Librarian Yesha Naik, "I simply wish to celebrate works by women, with strong female protagonists. Below you'll find a variety of books: speculative fiction, (both sci-fi as well as fantasy,) some magic realism, nonfiction for adults and children, as well as a couple of modern day classics that are must-read rites-of-passage for anyone growing up in America. Enjoy celebrating women with fiction and nonfiction for adults, teens, and children!"
Need more book recommendations?
Try your hand at The Brooklyn Public Library's Book Match service. They'll team you up with your own personal librarian and a custom list of books to match your tastes!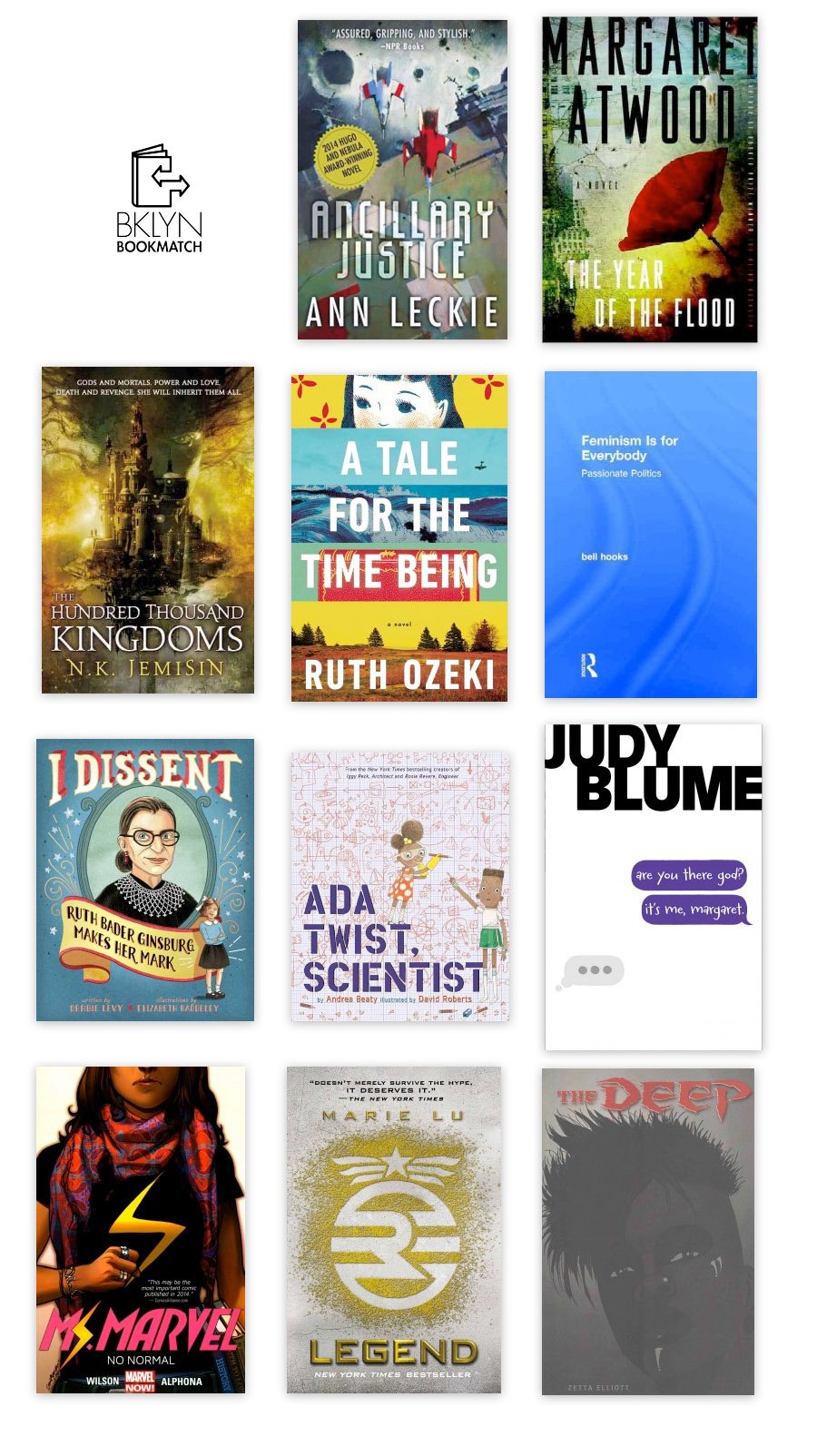 Ancillary Justice
by Ann Leckie
Can an artificial intelligence be more human than humans? Leckie's book, written in the subversive universal "she," will blow your mind away with its intricately imagined world in which one self battles another, and gender is just an insignificant detail.
The Year of the Flood
by Margaret Atwood
Central to this tale of speculative post-apocalyptic fiction is the friendship between two women—Ren the Gardener and Toby the Dancer—who are quite possibly amongst the last people alive after a designer virus has obliterated most of humanity. Another book by Atwood which is also scarily relevant is The Handmaid's Tale which portrays a near future of a totalitarian government taking over, steamrolling women's rights in the process.
The Hundred Thousand Kingdoms (Inheritance #1)
by N.K. Jemisin
In this outsize fantasy, outcast princess Yeine Darr from the barbarian north is summoned by her grandfather to vie with her cousins for his throne—and for her very life.
A Tale for the Time Being
by Ruth Ozeki
A fictional version of the writer, Ruth, and a shy, bullied, yet intrepid teen girl named Nao improbably reach across time and distance to connect in this novel exploring the depths of friendship between generations of women, Buddhist philosophy, and other existential themes.
Feminism Is for Everybody: Passionate Politics
by Bell Hooks
In this book of essays, Bell Hooks invites us to see that not only is "feminism for everybody," but that feminism, if it's paired with vanquishing racism and homophobia, can make it possible to "live the truth that we really are all created equal."
I Dissent: Ruth Bader Ginsburg Makes Her Mark
by Debbie Levy, illustrated by Elizabeth Baddeley
Supreme Court Justice Ruth Bader Ginsburg's fiery spirit and feminism pair well with the simple, strong words of Levy and the vivid illustrations of Baddeley, inspiring sparks of pride and wonder in the minds of all who read her story, no matter how young or old.
Ada Twist, Scientist
by Andrea Beaty
In this rhyming picture book, young scientist Ada's first word—at the age of three—is "Why?" and she never stops in her quest to find out the reasons for everything around her. When a particularly horrible smell invades her home, you can trust Ada will (in rhyme, no less!) investigate the root cause!
Are you there God? It's Me, Margaret
by Judy Blume
Margaret, a sweet, funny, and honest twelve-year old, talks to God via her diary in this classic book delving into the heart and soul of a girl growing up in an interfaith family in America. Declared by the American Library Association to be one of the most frequently challenged books for its frank discussions about sex, puberty and religion, what will really get you is Margaret's earnest voice, getting to the essence of girlhood in America.
Ms. Marvel
by G. Willow Wilson
Wait, what? Ms. Marvel is an ordinary teen Muslim girl from New Jersey?! Share Kamala Khan's experience of becoming comfortable with her newly awakened superpowers through the glorious illustrations and text of this comic book.
Legend
by Marie Lu
Aimed at teens, this fast-paced post-apocalyptic dystopian fiction satisfies all ages with its exploration of right and wrong, as seen from the perspective of 15 year old prodigy-soldier June and her supposed nemesis, a boy named Day.
The Deep
by Zetta Elliott
Nyla, a black teen girl with recently discovered Powers, has to decide whether she will join the underground League, joining her birth mother to fight the powers of Evil in the Deep, or continue living her life as girlfriend, daughter and student in present-day Brooklyn.
Yesha Naik works with kids and teens as a Youth Services Librarian at Brooklyn Public Library. When she's not reading books for all ages, she enjoys drawing fantastical buildings and animals, watching too much internet TV, and spending time with her nephew. Her favorite author growing up was Madeleine L'Engle.