This week marks the beginning of Black History Month and we're kicking it off by celebrating black voices in literature with our friends at The Brooklyn Public Library. Ellen Weaver, a children's librarian at the Macon Branch in Bed-Stuy selected ten books that touch upon this important topic in various ways. "When composing this list," Weaver says, "my intent was not to give history lessons, but to highlight the wide perspectives of black authors, both within and outside the realm of reality. In the mix, you'll find a children's book, a graphic novel, a memoir, and a time traveling adventure. Every title in the list, though varied in genre, is connected by the threads of a shared and inescapable history. Adding any of these books to your reading list this month is a sure way to celebrate colorful voices that deserve to be heard."
Need more book recommendations?
Try your hand at The Brooklyn Public Library's Book Match service. They'll team you up with your own personal librarian and a custom list of books to match your tastes!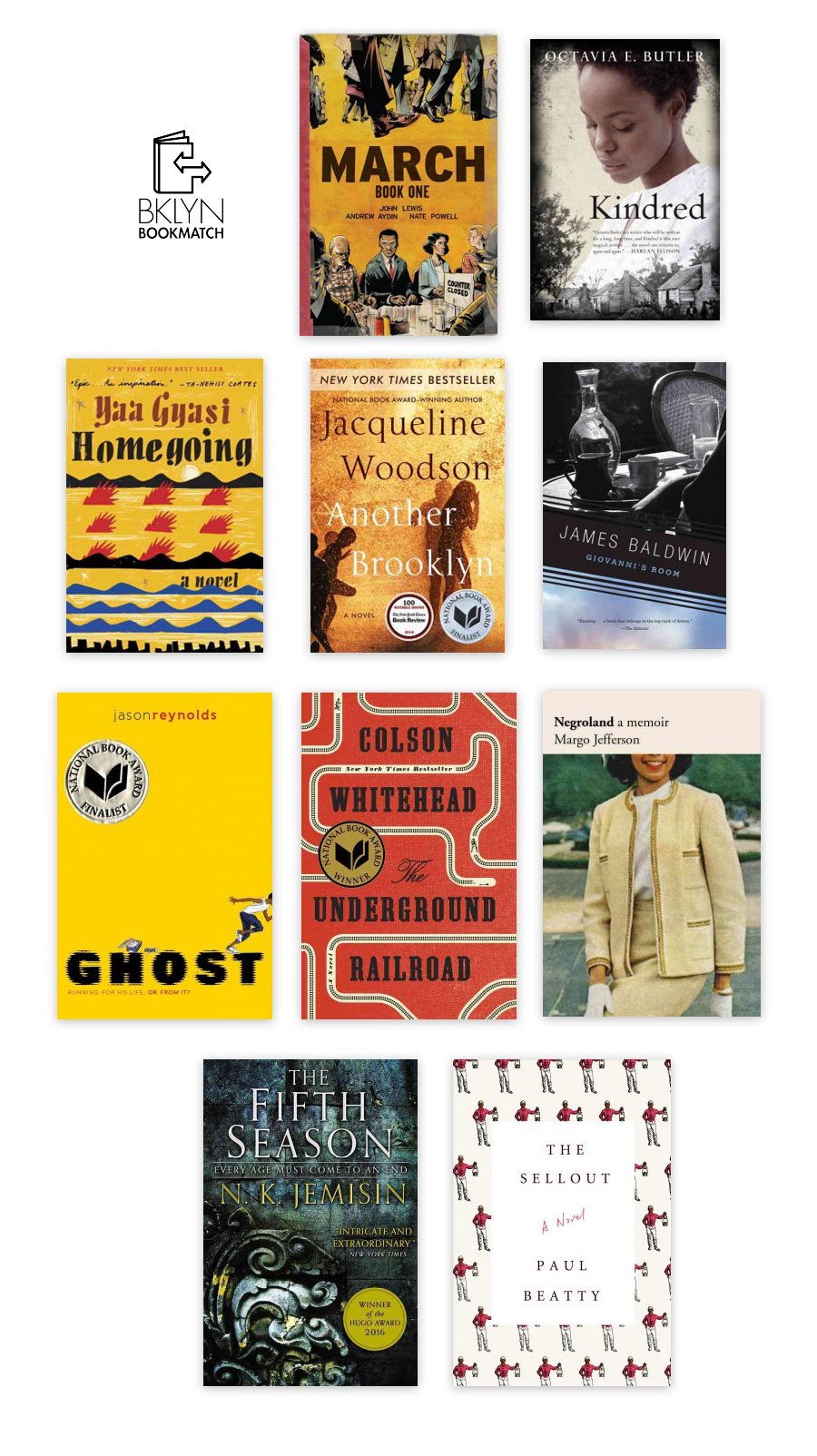 March: Book One 
by John Lewis and Andrew Aydin
Congressman John Lewis, a champion for equality and a true American hero, shares his memories of the Civil Rights Movement, enduring and overcoming the unimaginable. This black-and-white graphic novel trilogy vividly brings Lewis's firsthand account to life.  
Kindred 
by Octavia Butler
In this fast paced genre-bending novel, Dana, a young black woman, is suddenly pulled from her home in 1970s California to the antebellum South. She's tasked with saving the life of her ancestor, the white son of a plantation owner. Back and forth she travels through time, risking her marriage, her life, and her sanity. I recall the loud thumping of my heart as I read this one.  
Homegoing 
by Yaa Gyasi
Effi and Esi are two half-sisters living parallel lives in Ghana. While one is married off to a government official, the other is sold into slavery. Gyasi weaves an ambitious story told by the descendants of the two sisters, spanning 7 generations, 2 continents, and 300 years highlighting the deep and dark legacy of slavery. 
Another Brooklyn 
by Jacqueline Woodson
In 1970's Brooklyn, friendship is everything for August. She attaches herself to a group of three magnetic girls as they cling to each other in a place where mothers disappear and men wait for young girls in dark hallways. Lyrical and haunting, Another Brooklyn is a bittersweet love letter to black girlhood.  
Giovanni's Room 
by James Baldwin 
David wants nothing more than to live a conventional life as a straight man, but during an extended stay in France, he is confronted by his true desires. Doomed from the start, David becomes engulfed in a love affair with an Italian bartender. Baldwin explores the complexities of forbidden love and the imminent death of all things in this tragic yet touching novel.
Ghost 
by Jason Reynolds 
Castle "Ghost" Crenshaw wants to run away from his life. He's pushed to the limit with bullying at school and his father is in jail for trying to shoot both him and his mother. When Ghost joins a local track team, he discovers he can't run away from his life, but he can rise above—triumphantly. This is hands down my favorite children's book right now.    
The Underground Railroad 
by Colson Whitehead
Winner of the 2016 National Book Award, The Underground Railroad reimagines the safe passage for slaves traveling to free states as an actual underground train with tunnels, conductors, and tracks. Fleeing trouble back home and a relentless slave catcher, a young outcast named Cora embarks on a journey to find true freedom.  
Negroland: A Memoir 
by Margo Jefferson 
The intersections of privilege, class, sex, and race are explored in this memoir by Margo Jefferson, the daughter of the head of pediatrics at America's oldest black hospital and a socialite. Born into Chicago's black upper crust, she found herself part of an exclusive club of black Americans who considered themselves a separate third race. Negroland is fascinating and eye-opening look at the colored elite. 
The Fifth Season 
by N.K. Jemisin 
The Stillness is a world composed of one supercontinent where cataclysmic natural disasters happen so often the people, animals, and plant life have evolved to prepare for the season of death or the "fifth season." Winner of the 2016 Hugo Award for best fantasy/science fiction novel, The Fifth Season is unlike anything I have ever read and elevates the genre to new places. 
  
The Sellout 
by Paul Beatty 
For those who find themselves weary from the current state of American race relations, there may be some medicine in the satirical words of Paul Beatty. This is medicine of the humorous sort, taking on such topics as the U.S. Constitution, slavery, urban life, and the civil rights movement with plenty of wit and honesty in "post-racial" America. 
Ellen Weaver is the Children's Librarian at the Macon branch library in Bed-Stuy. When she's not at work, she can usually be found writing at her favorite coffee shop or hanging out with her sisters. Her obsessions include comics, Tetris, and her grey tabby cat, Eliot.