As far as meals go, nobody is going to deny that brunch is best. Brooklynites in particular seem to live and breathe the meal—each weekday marking the passing of time between one bottomless mimosa and the next. As much we we love our Saturday and Sunday boozy brunches, though, the same ol' eggs benedict and bloody marys can get awfully tiring after ten (or a hundred) times. Luckily, our pals at MeMe's Diner are well-traveled in the land of brunch and know just the thing to pull you out of any brunch-rut. This weekend, they're offering up four delicious, Tropical-inspired recipes that will be an escape for your tastebuds and your culinary repertoire—when was the last time you cooked with Fritos?? Here's to winning the brunch game!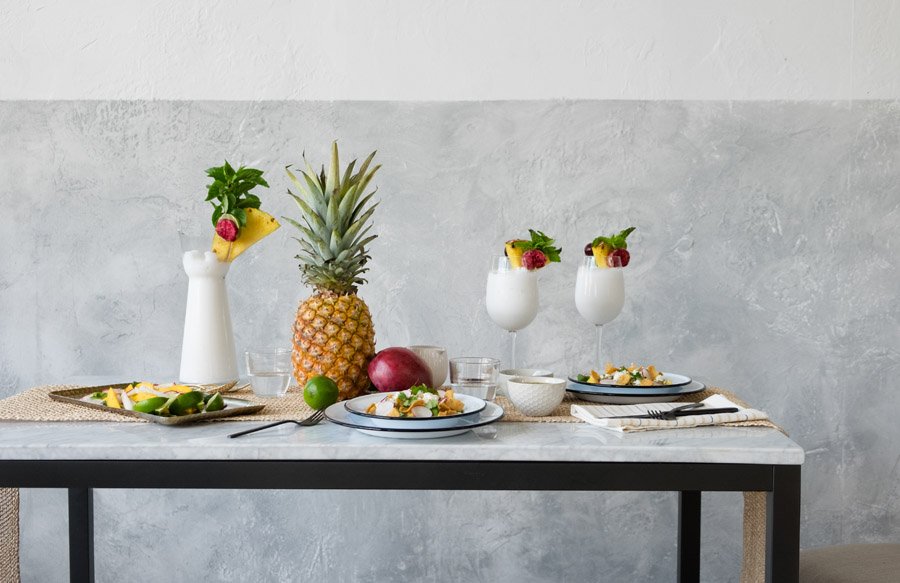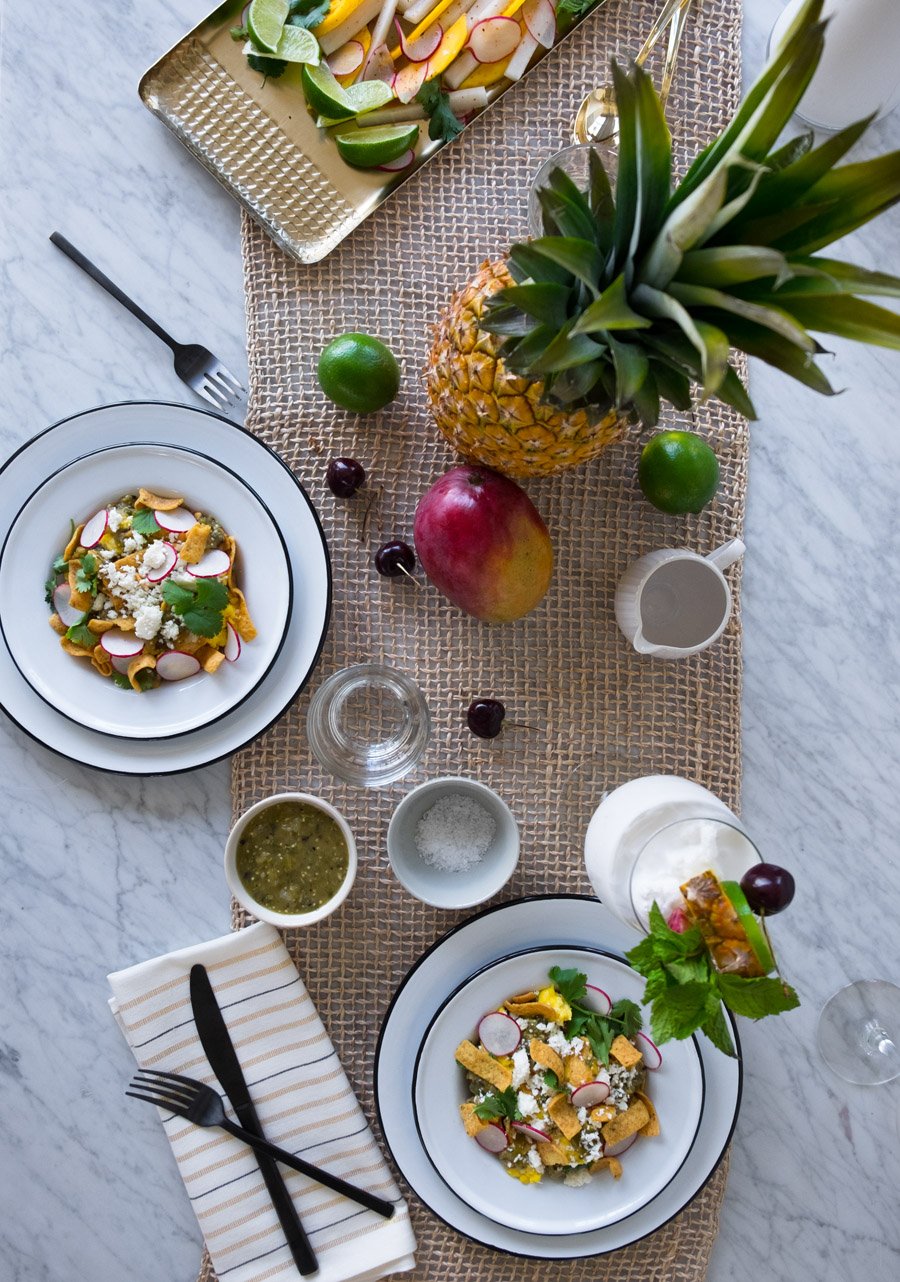 Coconut Horchata
Approx 6 cups
⅔ cup white rice
3 cups warm water
1 small cinnamon stick (approx 2-3inches)
3 pitted dates
¼ cup sugar
2 cups coconut milk
Pinch of salt
Zest of half an orange
1.5 cups ice
Ground cinnamon, for serving
1. In a blender, grind the rice to the texture of coarse corn meal. (If your blender cannot grind that fine, it will be okay!)
2. Transfer the rice to a bowl, cover with warm water, add the cinnamon stick and dates. Cover and refrigerate for at least eight hours, for best results overnight.
3. After soaking, remove the cinnamon stick and dates. Set the dates aside to be used later.
4. Blend the rice and water until it is as smooth as possible.
5. Strain the mixture through a sieve lined with a few layers of cheesecloth over a bowl or large pitcher. Squeezing it firmly to extract as much of the rice flavor as possible.
6. Stir in the sugar, coconut milk, and orange zest, mixing until the sugar is dissolved. Taste, and adjust sweetness to your liking. A pinch of salt really helps!
7. Transfer liquid back to rinsed blender, add soaked dates, and ice. Blend until smooth.
8. Pour into glasses, garnish with ground cinnamon and fresh fruit.
Storage: The liquid horchata without the ice can be kept in the refrigerator for up to four days.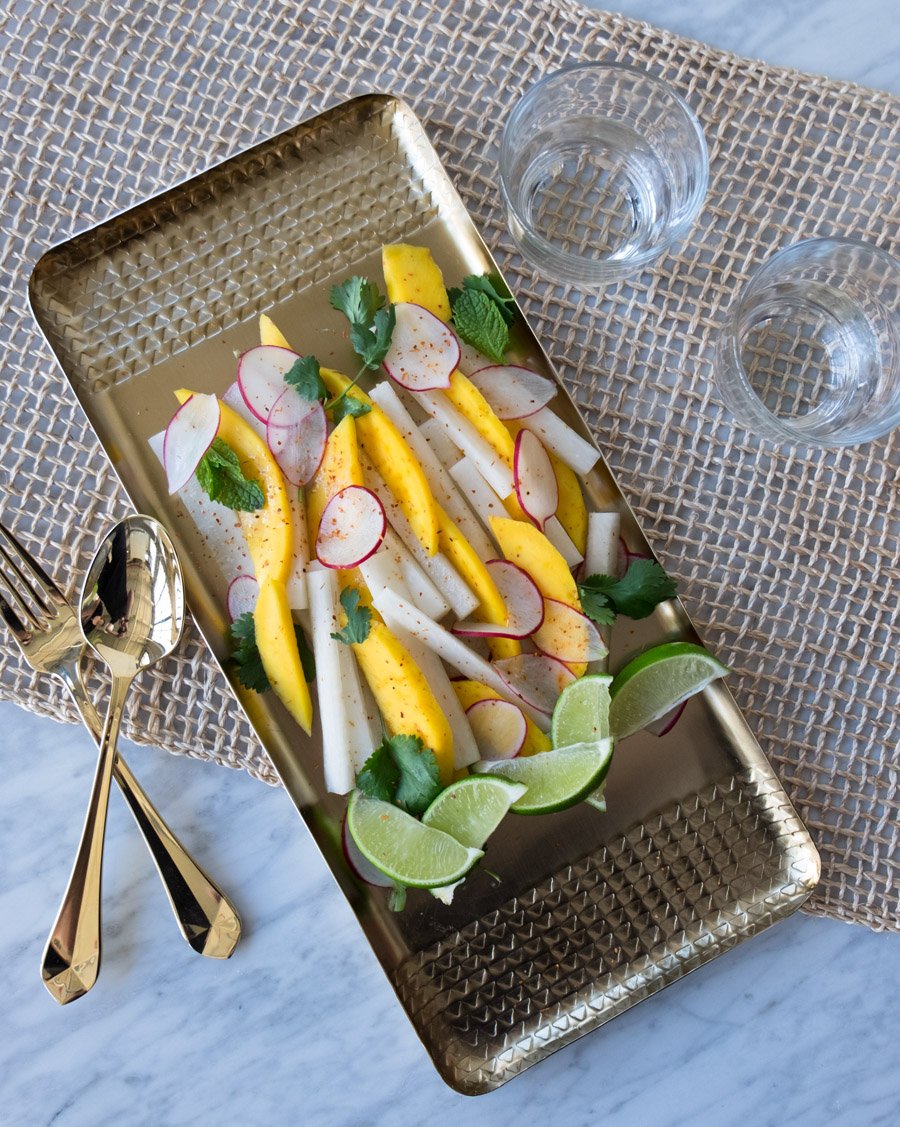 Mango and Jicama Salad
Serves 2
1 ripe mango cut pitted, peeled and cut into strips
½ jicama, peeled and cut into ½ batons
2 radishes thinly sliced
½ lime juiced
Tajin Fruit Seasoning ( if you are unable to find, a sprinkling of chipotle powder, salt, and a little extra lime juice will work!)
4 sprigs of cilantro, leaves picked and tough stems discarded.
1. Toss mango and jicama with lime juice.
2. Assemble all cut produce on your favorite serving tray and sprinkle with Tajin and cilantro leaves.
Frito Migas
2 servings
1 ½ cups Fritos, about half of a large bag
½ serrano chile, minced
½ medium onion, minced
1 tbs olive oil
1 tbs butter
4 eggs, scrambled
¼ grated cheese for melting (jack, cheddar, gouda)
2 radish thinly sliced
½ cup sour cream
Queso fresco, crumbled
Salsa Verde
½ avocado, diced
1. Heat olive oil in your favorite egg pan. Saute onion and chile until soft. About 3 mins.
2. Add butter to pan and let melt. Turn heat to low.
3. Add scrambled eggs to peppers, onions, season with salt, and cook on low until soft. Add grated cheese to eggs. Remove from heat.
4. Arrange fritos in a bowl, top with scrambled eggs, queso fresco, avocado, salsa verde, sour cream, and thinly sliced radish.
Salsa Verde
Approx 3 cups
1 ½ pounds tomatillos, husks removed, large fruit split in half (approx 10 medium)
1 medium white onion, peeled and cut into chunks
2 limes split in half
2 to 4 Serrano or jalapeño chilies (depending on how spicy you'd like your salsa) split in half
¼ cup vegetable oil
10 to 15 sprigs cilantro, tough lower stems discarded
Kosher salt
1. Adjust oven rack to 4 inches below broiler and preheat broiler to high. Place tomatillos, onion, chilies, and limes cut side down on a foil-lined rimmed baking sheet. Broil until darkly charred and blackened on top and tomatillos are completely tender, 8-15 minutes depending on broiler.
2.Reserve limes and transfer contents of tray and their juice to a blender or food processor., With a pair of tongs and a fork, juice limes into machine. Add vegetable oil. Pulse 2-3 times for 10 sec intervals. Add half of cilantro. Blend in pulses until rough puree is formed. Season with kosher salt to taste. Add a pinch or two of sugar if salsa is too tart.
Storage: Salsa can be kept tightly sealed in refrigerator for up to 10 days.
Bill Clark and Libby Willis believe in dinner parties on a Tuesday, that you should eat cheese balls with your martini, and that entertaining should be simple. Their recipes work from an international pantry (think chili oil, fish sauce, and tahini) combined with farmers market produce and bodega standards (Fritos, potato chips, and wasabi peas) to create distinctly American food. Follow MeMe's Diner on Instagram!