Hey Guys! It's Billy and Dani here with a perfect end of summer picnic that can either be enjoyed outside or if you're like us, inside with all the a/c. The whole spread can be prepared the day ahead with the exception of the sandwich and drink assembly, which means the picnic party can happen that much faster. We went with a fun spread of Green Goddess Club Sandwiches, Baklava Adjacent Rice Krispies (with honey and all the toasted walnut and pistachio vibes) and Strawberry Balsamic Vodka Spritzers to round it out. Then we went the store bought route with our favorite potato chips and watermelon because end of summer means almost end of watermelon and we're holding out as long as we can.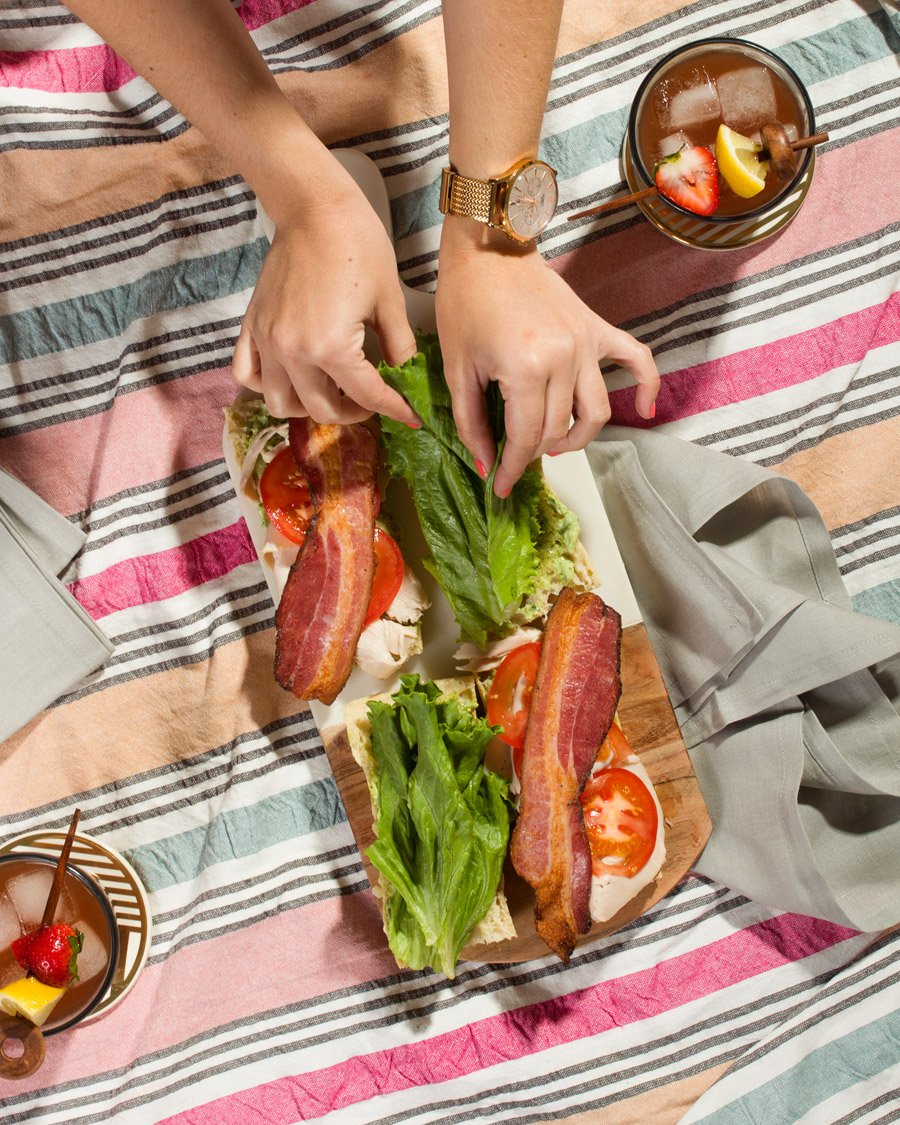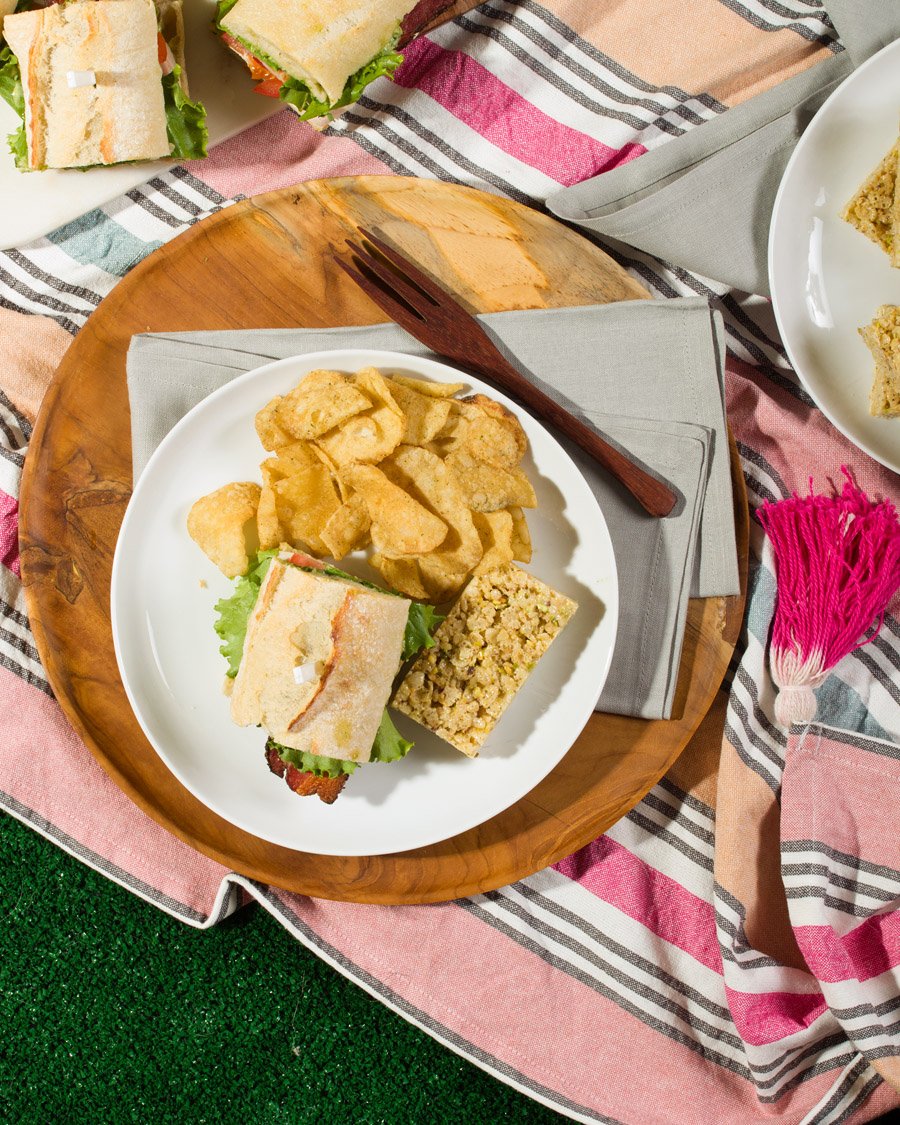 Goddess Club Sandwiches
Serves 4
For the Green Goddess spread:
½ cup mayo
&frac12 cup lightly packed basil leaves
2 scallions
zest and juice of &frac12 small lemon
&frac12 teaspoon anchovy paste
big pinch of salt
a few cracks of black pepper
In a small food processor or blender combine all the ingredients and blitz until smooth. Taste for seasoning and add more salt if needed.
For the sandwiches:
1 large baguette (or whatever you like your sandwiches on)
&frac12 pound sliced turkey
2 tomatoes, sliced
green leaf lettuce
4 slices thick cut bacon
To assemble:
If using a baguette cut it in half length wise and then into 4 equal sandwiches. Spread each piece with some of the goddess spread then layer on the turkey, tomato, lettuce and then finally the bacon. To get the smaller sandwiches like this spread just put two picks in the sandwich then cut down the middle.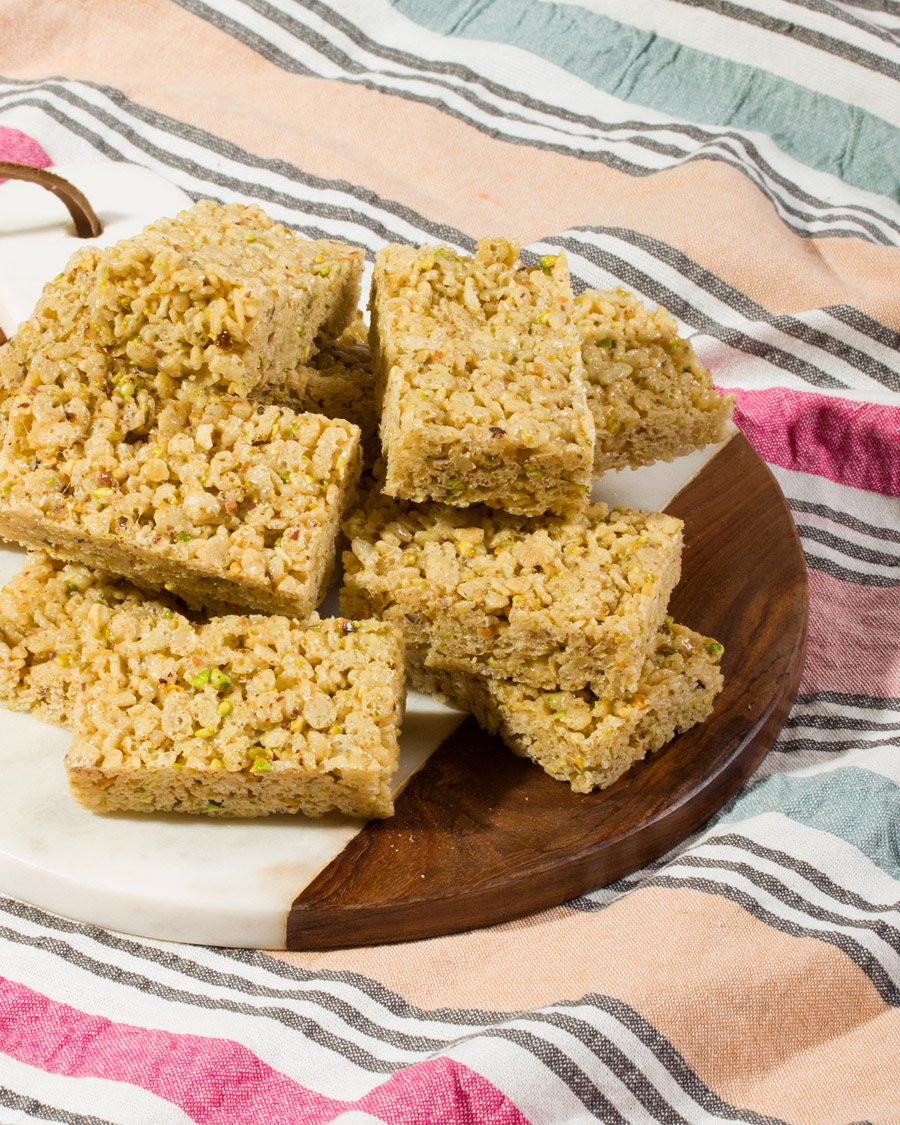 Baklava Adjacent Rice Krispie Treats
Makes 24 treats
3 Tablespoons unsalted butter
3 Tablespoons honey
big pinch of salt
10 oz bag mini marshmallows
6 cups crispy rice cereal
1 cup finely chopped pistachios
1 cup finely chopped toasted walnuts
(or 2 cups finely chopped whatever nuts you want)
Spray a 9×13″ pan with non-stick cooking spray and line with parchment paper or greased aluminum foil, set aside.
In a large pot over medium heat add the butter with the honey and salt and cook until the mixtures melted and just starts to bubble. Turn the heat to low and stir until all the marshmallows are melted. Add the cereal and nuts and stir until everyone is combined evenly. Use a silicone spatula to evenly press the mixture into the prepared pan, set aside and let cool completely before cutting into bars.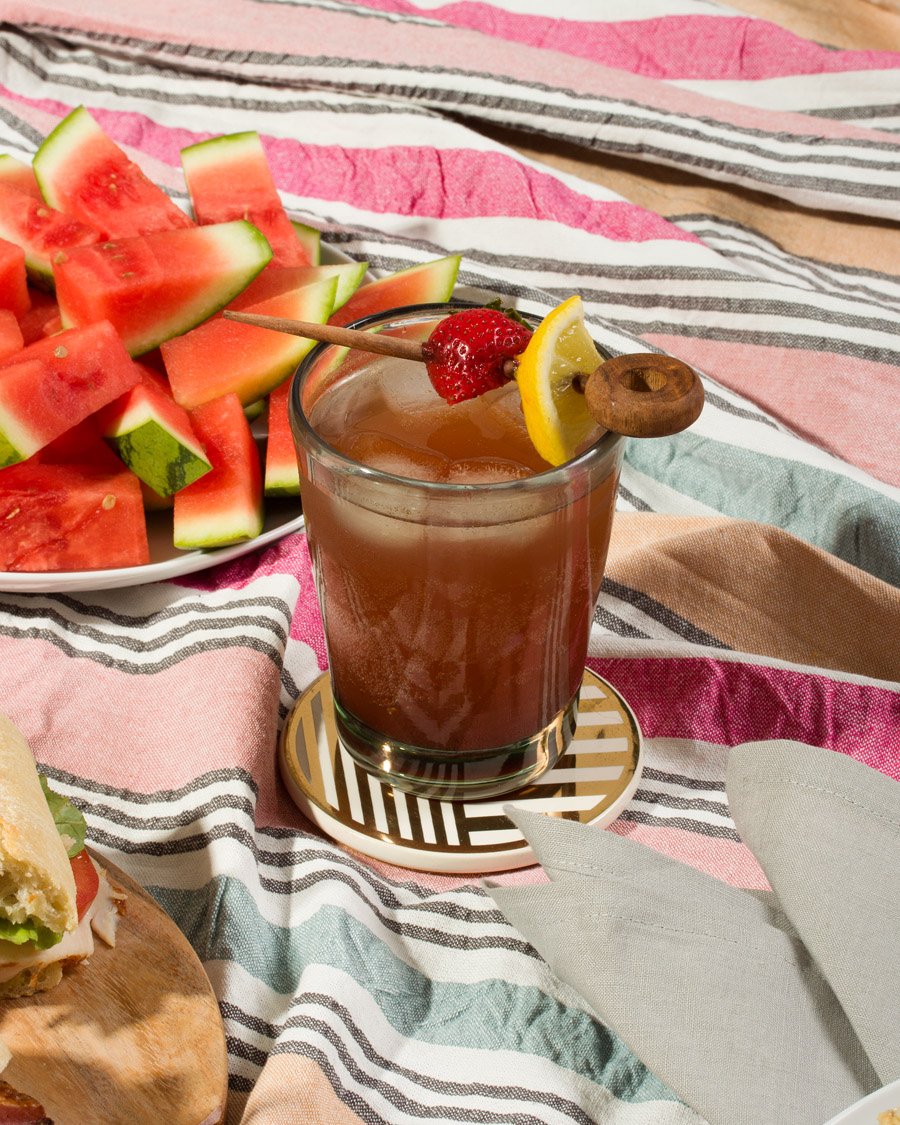 Strawberry Balsamic Vodka Spritzer
(Makes 2 cocktails)
3 oz vodka
3 oz strawberry balsamic syrup
Sparkling water to top
Lemon wedges for serving
Balsamic Strawberry Syrup
8-9 Strawberries, halved
2 teaspoons balsamic vinegar
1 heaping tablespoon sugar
Juice of ½ a lemon
Zest of 1 lemon
In a small saucepan, combine your strawberries, vinegar, sugar, lemon juice, and zest overflow heat. When the strawberries start to release their liquid, and the sugars begin to dissolve, lightly mash the berries with the back of your spoon, or a potato masher. Once the sugar has dissolved, and your syrup has reached a deep pink color, remove from the heat, and strain through a fine mesh sieve into a heat-proof bowl. Add one final squeeze of lemon juice for brightness, and stir.
In a shaker full of ice, combine your balsamic strawberry syrup, vodka, and the juice of 1/4 of a lemon, and shake for about 15 seconds. Strain into two cocktail glasses full of fresh ice, and top with sparkling water. Garnish with a lemon wedge, and even a sprig of rosemary or thyme if you're feeling extra fancy.
—
Dani Colombatto is a food stylist and recipe developer with a penchant for cocktail shaking. Her current cooking and content-creating antics take place in San Diego, and can mostly be seen on her Instagram, @danicolombatto.